The FOSS4G 2014 organizing committee is pleased to unveil the logo for this year's conference. Designed by Elizabeth Haddad, the logo reflects the geography and history of Portland, and of FOSS4G.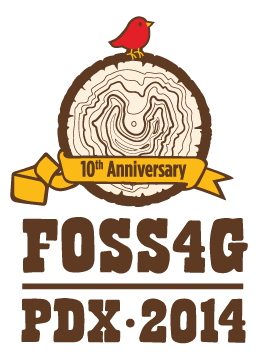 The logo's central element is a slab of wood, recalling Portland's history of timber production. Though the timber industry is no longer as dominant as it once was, the slab motif can still be seen at Portland Timbers soccer games, where a slab is sawn off a log for each goal scored by the home team, and presented to the player(s) in front of their supporters. There's even a section of town known as Slabtown, reflecting the lumber production that once occurred there.

The slab's rings are derived from the topographic contours of Mt. St. Helens, the volcanic Cascade Range's most active member – it erupted most famously in 1980. The volcano sits just 80 kilometers north of Portland.
(Don't be surprised if a Timbers game and a trip to Mt. St. Helens appear as field trips.)
The bird is a not-so-subtle reference to a skit on the TV Show Portlandia, which satirizes the city's inhabitants. The bird's name is Helen.
The skit itself is a sly take on the Do It Yourself culture that Portland prides itself in. You'll hear more about Portland's DIY culture – the organizers have adopted it as the conference theme.
Finally, the ribbon that ties each year's logo to past years contains the reminder that 2014 marks the 10th anniversary of FOSS4G – we hope you'll join us in making this the best FOSS4G yet.
Logo availability and use
Multiple versions of the logo are available in formats suitable for digital or print.
The logos are made available for use , without modifications other than size, in the promotion or discussion of FOSS4G 2014. Detailed guidelines are available here. If you have questions about the use of the logo, please contact foss4g2014-media@osgeo.org.